"Mirror to Mirror"
Solo Installation / Performance
CalArts - Valencia, California, USA
February 10, 2022
This installation enacts my desire to connect to my Japanese/Filipino heritage and how tattooing has become a potential outlet for understanding.
Artist Statement
Japanese and Filipino Tattoo History
Brief history through indigenous practices, social connotations, common designs, and traditional methods.
The infamous black armband and its history with Japanese and Filipino tattoo culture. // "Filipino of the Month" flyer for my personal practice. // Current traditional-modern Filipino tattoo artists practicing today.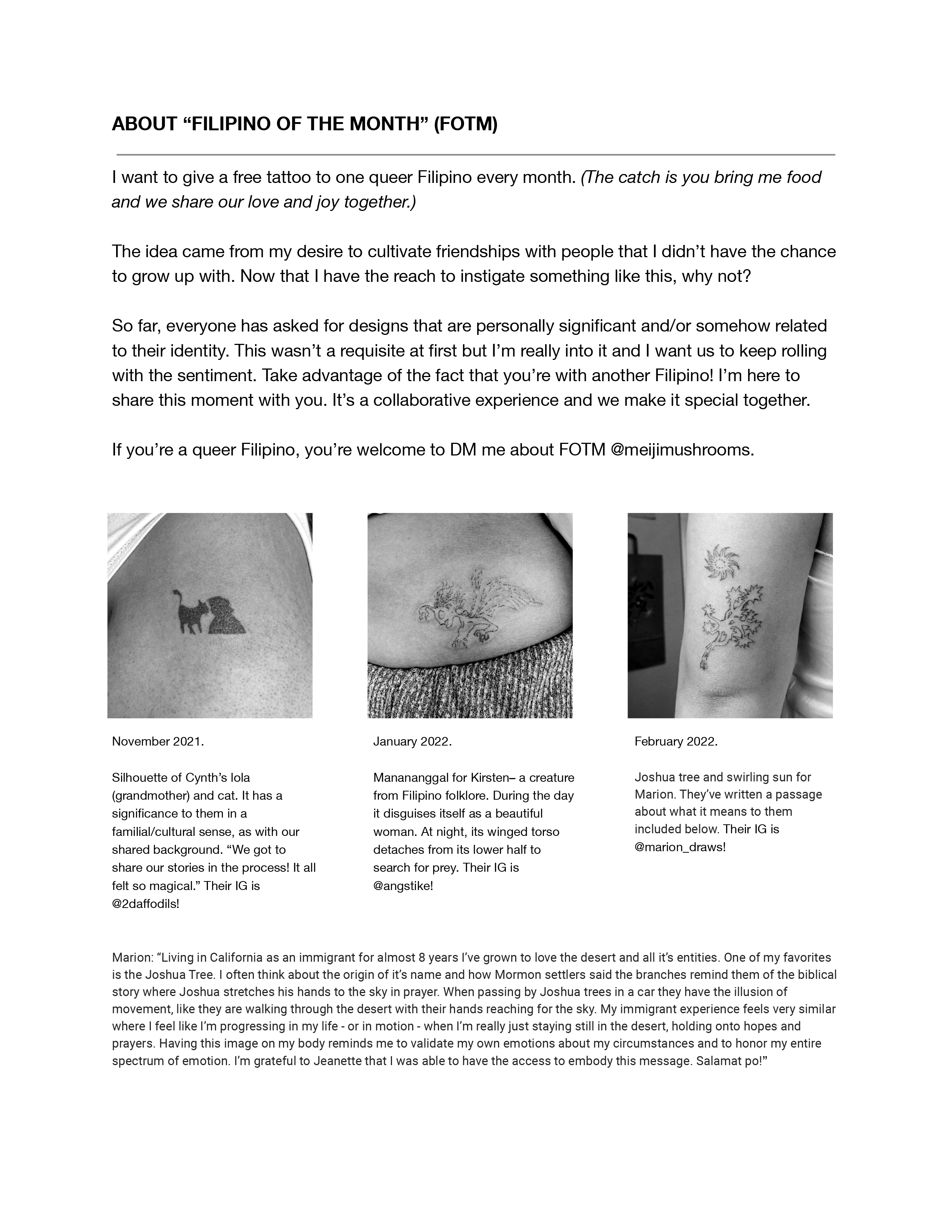 Books with my personal notes were placed beside the research text. Provided books were Filipino Tattoos: Ancient to Modern by Lane Wilcken and Japanese Tattoos: History, Culture, Design by Brian Ashcraft and Hori Benny.
Tattoo Stencils
Tatttoo stencils from my previous sessions placed in photo frames and illuminated from behind.
A sheet of stencil paper mounted in front of the wall. Guests were invited to play with LED lights to create moving, interactive shadows. Em Yue is accredited for the idea and execution of this concept!
Books and comics were placed around the space for guests to read. Among these: Maharlikan Chronicles Issue #1 by Arthur Soriano, 127 Ways to Love by Serena Hughes, A Thousand Days in Elsewhere by Zilai Feng, and Mushishi (Volumes 3, 4, and 6) by Yuki Urushibara.
Personal Artwork
These pieces were made as I worked through my personal struggles as a diaspora; they reflect equal parts of joy and grief.
Vignette: Manzanar
Vignette: A Bad Grandchild
Late Bloomer
Aphrodite of Color
Untitled
Vignette: Santa Barbara, California

Collage of observational drawings from my sketchbook.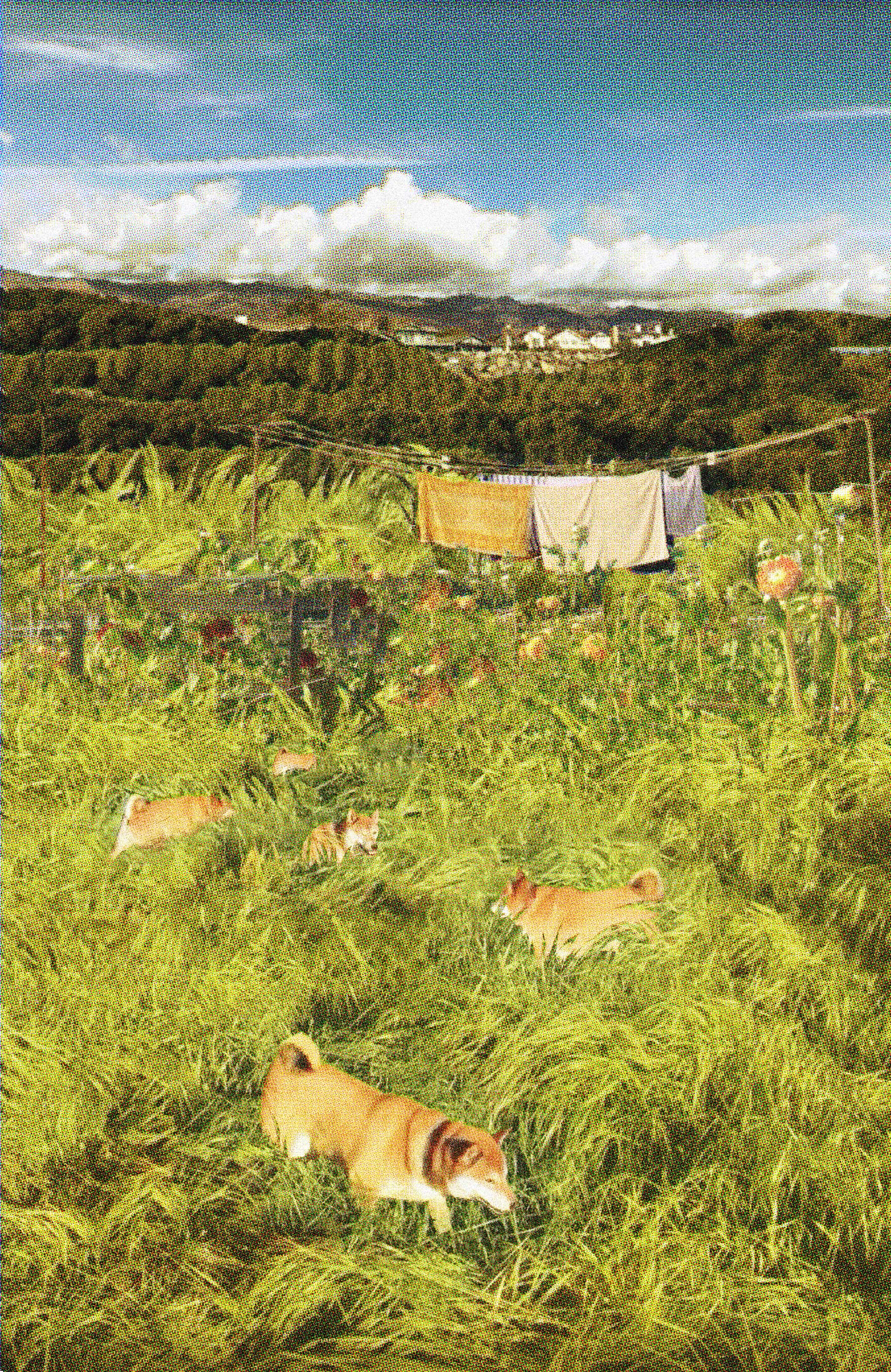 Vignette:
Carpinteria, California

Collage of photos from my Japanese grandmother's avocado farm, the view of the mountains from the beach, and my dog's favorite walking path.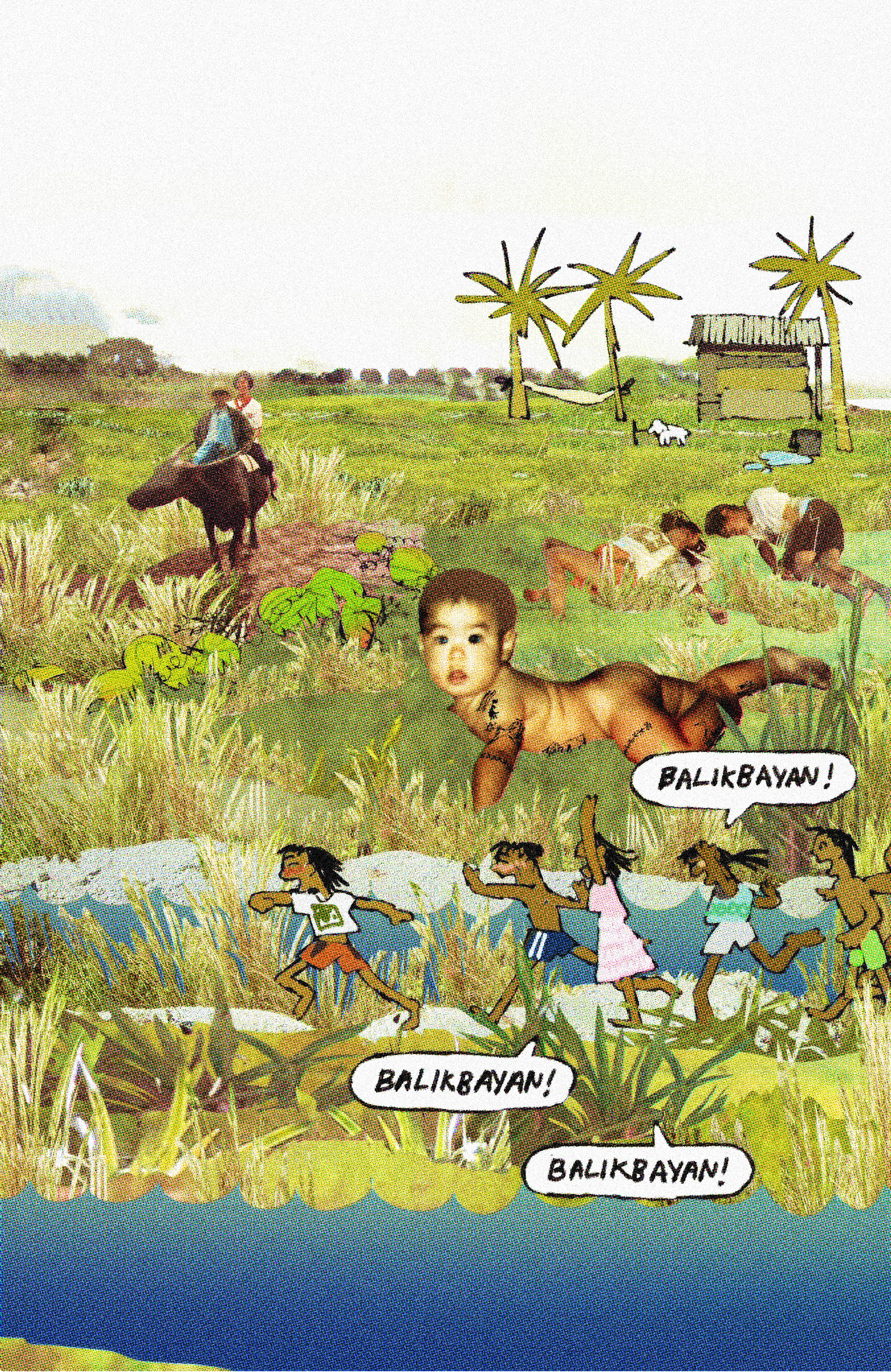 Vignette:
Nagsabaran, Philippines

Collage of photos and sketches. My family visited the Philippines when I was 6. This is a specific memory from my Filipino grandfather's farmhouse, in Nagsabaran. I remember a hammock my mother slept on, a lamb that we killed and ate, and a bucket of eels that my brother and I obsessed over. I remember playing chase with the local children and they called me balikbayan, a Filipino that has returned home.
Performance: Self-Tattooing
To mimic my usual routine, the performance began with gentle undressing and stretches to loosen my muscles. To create a focal point of the piece I was tattooing on my belly, I covered the rest of my pre-existing tattoos with gouache paint.
This comes from a desire to share the self-love, contemplation, and body connection I feel as I go through this ritual-- and consequently allow others into that space with me.
The set was designed to capture the coziness of my bedroom. Furniture created a half moon around my seat. Blankets, pillows, plants, fairy lights, and prints by my friends (on Instagram @marion_draws, @christiannlg, @veggiecakeface) surrounded me. A projection cast the view from my grandmother's farm and water reflections created vertical streaks of light against my body.
I encouraged guests to have a one-on-one conversation with me while I tattooed myself. I wanted to exchange thoughts specific to the content of the installation. Whatever feelings came up for each person, emotional space was held to discuss further and learn more.

We shared pains about our deceased elders, pride as Filipinos, struggles/fears/guilt with cultural connection, loneliness growing up (and new lack of), angers, frustrations, solidarity in experiences, many tears, many hugs.
The vulnerability of everyone present was reciprocal, caring, and felt throughout the room. The energy was intimate and palpable!
The finished piece.
I feel this show succeeded because of audience reciprocation. The energy in that room was so special. I sensed everyone was feeling sentimental along with me and ready to open up. Thank you for coming in, so respectful, trusting, and thoughtful. Anyone can feel the beauty and magic bursting from these photos alone.

I saw your pains and you saw mine. I felt your love and you felt mine!

Thank you:


Yoo Jung Hong-- photography and documentation.
Zee Yorke, Adam Bandrowski, and Rita Petviashvili-- set-up/take-down.
Em Yue-- set-up, cord management, creating the stencil zones, general stability and guidance.
Edgar Jorge Baralt-- gallery coordination.



2022